The Seven Deadly Sins Season 3 Episode 15: The upcoming episode the Japanese anime series, TSDS is surely gonna be an epic and thrilling one. Gowther and King fused their powers and gave birth to an all new highly lethal weapon i.e. the 'Celestial Arrow' to deal with the mighty Chandler. Though its effects on him are still highly questionable. (Check: Black Clover Chapter 236.)
Quick Recap of the Seven Deadly Sins: Wrath of the Gods Episode 14
The whole sequence of the incidents in the previous episode was very much similar like how the leaked spoilers claimed about it. Zeldris was on his way to release Meliodas from the clutches of Merlin following the instructions from his father i.e. the Demon King himself. Suddenly, two of the old demon masters catches him up who were Cusack and Chandler.
Chandler was the old mentor of Meliodas and Cusack who used to teach Zeldris how to face their enemies. They both appear to be this much strong that Zeldris claims that these two fighters could even take the place of the other members of the 'Ten Commandments' who were ignorant of Zeldris's summon calls.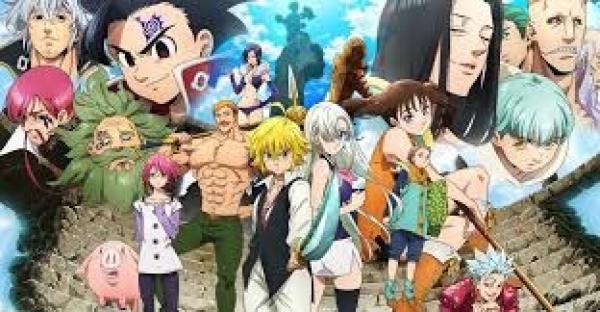 Chandler got immensely impatient and excited when he came to hear about the Demon King desires and thus, wishes to accomplish the task himself.
He was so desperate that he even chose to leave the company of Cusack and Zeldris to face the Seven Deadly Sins alone without them both. After he left them behind, Zeldris did not seemed concerned and was pretty much certain that Chandler shall be more than enough to tackle any situation arising thereafter.
As expected, Chandler seemed to be a too powerful opponent for the Seven Deadly Sins to stop. After he got the whole area covered magically to make it seem like night, he just bursted the Merlin's perfect cube entrapping Meliodas like a balloon and blocked her magical powers from attacking him and thus, they all became useless.
Diane's giant size was decreased so much by him magically to make her appear smaller than even a normal human. Because of the night like conditions prevailing in the area, Escanor might also result to be helpless before him even if he was not undergone in coma due to his injuries after the fight with Meliodas.
The Seven Deadly Sins also got a proposal by Chandler to get their lives spared if they surrender Elizabeth and Meliodas to him. Because they turned down his offer, he got enraged and burst upon them with his wrath by attracting the meteors from space to strike the area resulting in mass destructive consequences.
Therefore, King and Gowther fused their powers to create a new super deadly weapon i.e. the celestial arrow and released it towards Chandler.
The Seven Deadly Sins: Wrath of the Gods Episode 15 Spoilers
It seems that even Chandler is also concerned about the celestial arrow because it is very likely that he would be severely hurt if the celestial arrow hits him directly. This suggests that the strength of the fusion attack from the King and Gowther can never be neglected.
Sadly, Chandler is also very clever and he knows what he has to do to prevent the celestial arrow from hitting him after it is launched at him in the upcoming episode. Fortunately Gowther is also well prepared and knows about intentions of Chandler. Therefore, he has also some unknown plans plotting up in his mind.
To trick Chandler, Gowther would first use a distraction attack to divert his attention. At the moment when Chandler would try to defend himself, he would also signal King to launch the celestial arrow at him. Gowther is certain of the fact that it would take some time for him to regain all of his strength and stop the second attack coming to him.
The Seven Deadly Sins Episode 15 Release Date
All we can do is just wait for the next episode to be out to see the results of the Gowther's plan. The release date for episode 3 of the 'The Seven Deadly Sins' season 3 would be revealed next week. To know more in the future, stay connected with us.