As per the Emmerdale spoilers, the rapist Lee is going to get shock of his life when he will get to know that Victoria Barton is pregnant with his baby. She was previously viciously assaulted in her own home in Emerdale. Will it lead to a devastasting fight between Victoria and the man who raped her, for her child? (Check: Space Jam 2.)
On one hand, Victoria is trying to put the horrifying experience behind her, but on the other hand, the posters that Robert Sugden spread come back and haunt them. Lee's mother, Wendy turns against Victoria and threatens her to stop lying about her son. Later on, Lee rocks up too. Then, they both get in the face of Victoria.
Lee blamed her for sacking from his job. Then, Victoria flees from there. Robert and Amy Wyatt came and intervened the situation. Robert has to be stopped from beating hell out of Lee. But, Wendy and her morally bad son aren't finished with Victoria yet. Both of them follow her to Mill cottage and continued the argument.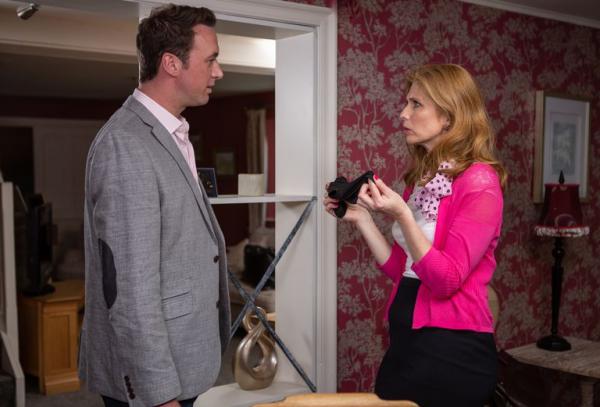 Being frightened, Victoria runs up the stairs to get away from them, but while climbing, she falls. Diane panics about her hurting herself, so she lets slip about the baby. It left Wendy and Lee stunned.
What will they do now, after they come to know that Victoria is carrying the baby of Lee? Will Wendy make her son fight to become a part of his life? Will that injustice destroy Victoria and her baby's future?
Meanwhile, Emmerdale also explores the tension between Bernice Blackstock and Liam Cavanagh on June 28. Bernice has doubt on her partner after she founds out a balaclava in his bag. On Friday, she confronts Liam without wasting any time over the situation. It prompt fight between the couple.
Without any thought, Liam accuses Bernice of snooping again. It has been only a few weeks since she crossed the line with her detective work over his late wife. Upon asking, Liam insisted that it belongs to a friend. He also pointed out that it don't necessarily mean anything.
But, Bernice seemed unsure of what to believe anymore. Her sister Nicola fueled her suspicion on her husband. Nicola winds her up over her secretive partner. Bernice fears that Liam is hiding something from her. The insinuations of Nicola prompts Bernice to dig deeper.
Is another Emmerdale couple heading towards disaster?
Emmerdale airs at 7 pm ET on ITV.