The episode begins with Ronit calling his sister. Prerna comes to Komolika's cabin to serve her tea. Ronit is talking with Komolika on the phone and asks her to listen if she is surrounded by somebody. Sonalika signs to leave with her hand without seeing Prerna and listen to everything that Ronit tells her! (Check: Kasautii Zindagii Kay 2 Written Updates.)
Prerna goes out of Sonalika's cabin. Komolika thinks that she will burn Prerna's memories also along with the house. Komolika drinks the coffee, but spill it out as it was hot. Sonalika goes outside and shouts at the receptionist who kept the coffee at her table. One employee starts laughing and Sonalika warns him that he is fired.
Sonalika questions who had brought the coffee in her cabin? One employee says that he will bring the person in her cabin soon. Mohini shouts at the servant why did he keep Anurag and Prerna's photograph in the house. Nivedita interrupts that it was left by mistake.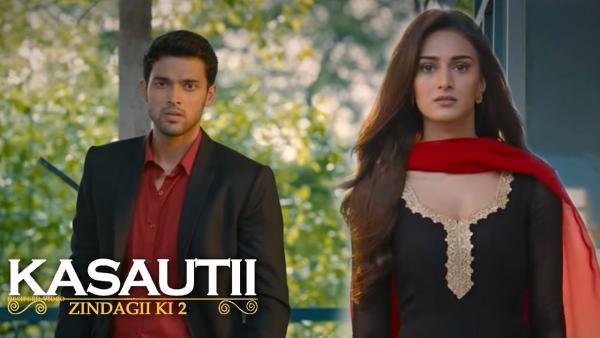 Mohini shouts at the servant to find whether there is any photo left of Anurag with Prerna ad throw it away. Nivedita questions Mohini that she wants to surprise her friend and conduct SindoorKela in the house. Mohini agrees with her. Komolika looks at Anurag's photo and thinks that she wants him to care for her.
Komolika thinks that she can use the storeroom to spend some time with Anurag so that no one disturbs her. Sonalika asks the receptionist to show her the storeroom. Anurag asks Prerna in the meeting for some work. Prerna says that they have some information regarding it in their library. Prerna goes to bring the file from the storeroom.
Komolika locks the storeroom gate in such a way that when it will be closed, it will get locked. Komolika thinks to take Anurag inside the storeroom in the dark and spend some time with him. Komolika calls Anurag and asks him to come out and help her as she is stuck in the storeroom.
Komolika goes inside the storeroom and thinks to cut down the light. Prerna feels scared that there might be a ghost in the storeroom. Prerna is stuck in finding the file and gets scared as the light turns off. Komolika throws away the switch and starts laughing.
Prerna thinks that there might be a ghost in the storeroom and gets scared of it. Komolika goes outside the storeroom to clean herself as she is covered in dust from the fallen boxes.
Anurag comes inside the storeroom and closes the door which gets locked. Anurag puts his hand on Prerna and she gets scared. Prerna asks Anurag to leave and shouts as there is a ghost in the storeroom. Prerna says that the ghost gets power from the dark. Prerna asks Anurag to leave as it is scary.
Anurag says that there's nothing like a ghost and all. Prerna says that someone was laughing in the storeroom. Anurag says to Prerna that someone is behind her. Prerna hugs Anurag and he gets hit with her nails. Prerna says that there's no one behind her. Both of them go to open the door, but it is locked.
Sonalika hears Anurag shouts to open the door and tries to push it. Sonalika goes to peon to take the key and gets shocked to hear Prerna's voice from the storeroom.
Precap: Anurag puts his hand on Prerna's stomach accidentally and gets flashes of his memory. Anurag says to Komolika that he is recalling some memories. Anurag says to Prerna that she told her the story of the thorn bird!