The episode begins with Prerna looking at Anurag enjoying in the rain. Anurag asks Prerna to come in the rain with him. Both of them are lost in each other. Shivani comes there and looks at Prerna lost in her dreams. Shivani says that the rain has stopped and she should come out of her dreams. (Check: Kasautii Zindagii Kay 2 Written Updates.)
Shivani goes to find her bag and Prerna is lost in Anurag. Prerna thinks that she is missing Anurag. Shivani says that her mother is waiting downstairs. Prerna calls Anurag but Anupam picks the call. Anupam says that Anurag has forgotten his phone in the house and he is worried about Mr. Bajaj.
Prerna calls Anurag's manager to talk with Anurag but can't talk to him. Mr. Das shows the news related to Mr. Bajaj to everyone. Anurag gets shocked to know that Mr. Bajaj took someone's company by attacking them. Anurag thinks that they need to stop Mr. Bajaj, from entering their company as they are his next target.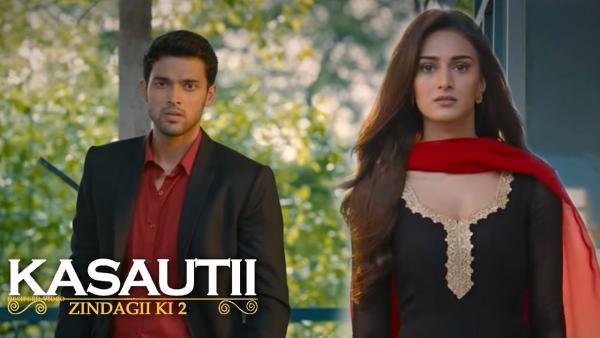 Veena is feeling bad that she touched the fish and is looking at her hand. She leaves from the prayer and is getting irritated from her hands. Shivani touches her hand and Veena goes to take the Ganga Jal. Shivani says that they have to go to Prerna in-law's house for the rituals. Veena says that she will not go to that house.
Veena puts the Ganga Jal on herself to be clean. Veena comes to talk with Prerna about Mohini. Veena looks at Prerna feeling tensed and questions about it? Prerna says that Anurag is tensed about something. Veena says that she should be with him.
Prerna was leaving for Anurag's office and questions her mother that she came to talk about something. Veena says that she is going to perform the Aadhan Pradan ritual in her in-law's house. Prerna leaves from there. Veena thinks that she will bear everything for her daughter's happiness.
Anupam questions Nivedita that his mother-in-law has become so changed as she is involved in all the rituals. Anupam thinks Mohini is up to something. Mohini thinks that she will make Veena cancel this marriage.
Anurag gets worried that they have got an order from the government against their story program. Prerna comes over there and says that he was not picking her calls so she came here. She says that she knows everything and ask Mr. Das to get the CCTV footage of the company destroyed by Mr. Bajaj to see his face.
Prerna consoles Anurag that they will fight against all the problems together. Mr. Bajaj is having a drink and a lady comes to him. She asks to sit over there and Mr. Bajaj agrees. The lady introduces herself that she is the wife of the CEO of the recent company which he destroyed.
She says that he is all alone and he says that he is also very happy. She says that she can make his happiness more. He says that she can go and say to her husband that he has removed him from the company because he hates dis-loyal wives.
The window gets open and Prerna is trying to close it. Anurag is lost in watching her that she is such a loyal partner for him.
Precap: Mr. Bajaj points the gun on Mr. Basu. Anurag says to Mr. Bajaj that he has to face him before heading towards Basu Publication. Mr. Bajaj says to Anurag that he doesn't have anything else except his business. Mr. Bajaj points a gun on Anurag and says that he is the owner of everything that Anurag holds!