The Kasauti Zindagi Ki episode begins with Prerna thanks Mr. Bajaj on the call. Prerna says to Veena that all of them are coming to her house. Prerna says that she has talked with Mr. Bajaj and he was right that he is no one to take this decision. (check: Kasautii Zindagii Kay 2 Written Updates.)
She says that she did everything in eight years and made the house in London. She says that she owns three companies in London and tells about her company. She says that she did everything so they are going with her. Veena says that this society had made some rules and they can't live at her daughter's house.
Prerna says that when they were living in their old house, then our father used to call her Son. She says that when she grew them up, then she loved all of them equally. Prerna asks her not to bring society as it has done nothing for her. She says that they know what society did to her!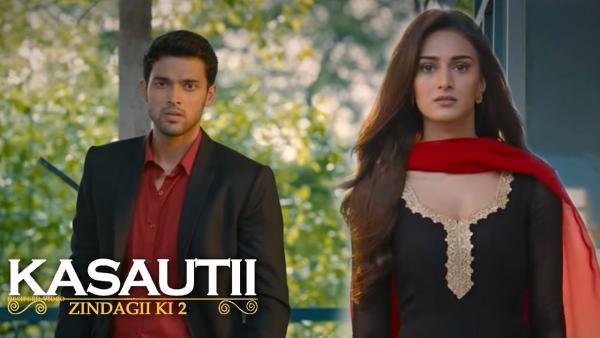 She says that they can stay at the outhouse if she doesn't want to live at her house. Veena says that they will go with her but they will do their stuff and don't require servants. Prerna says that she did everything herself so she knows about it. She says that everyone will be happy to see them and Kukki will be the happiest. Veena agrees for it.
Kaushik's friend tells her that a beautiful girl came to the college. Kaushik says that he will impress her. His friend denies that he can't. Another guy asks where's the girl and Kaushik can impress any girl! Kukki comes over there and both his friends get lost seeing her. Kaushik also looks at her.
Kaushik's friend learns that she is the girl who got him arrested. Prerna comes to the outhouse with everyone. Shivani asks about Kukki and Prerna says that she is at the college. Kajal thanks Prerna for such a help. Prerna questions Mahesh he taught her this for close ones?
Kajal says that when she got married to Mahesh, then things were fine but after Ma's operation. Prerna questions which operation? Veena says that she is so talkative. Prerna questions Mahesh what happened to him? Mahesh says that he promised to become a cricketer but things changed now.
Kaushik changes his basketball outfit and a girl comes to hug him. Kaushik's basketball goes from there and Kukki comes to return it but shouts after seeing them. Prerna says that it might be possible that he is meant for something else than cricket. Veena says that she is so happy today.
Prerna says that she wanted her favorite food now. Kajal says that she will also prepare tea for her. Kaushik looks at Kukki and asks her why she is shouting seeing him shirtless. The girl calls him cheap and leaves from there. Kukki runs from him as he is shirtless. Both get into a fight.
Prerna says to Veena that when she was weak then she recalled her. Kajal asks Mahesh to unpack the bags with her so she can prepare tea for Prerna Di. Veena says that she is also going to the kitchen.
Shivani questions Prerna whether she met Anurag? Shivani says that Basu's business is running on Komolika's hand. Prerna says that she met him and gave a big shock. Prerna says that she has a meeting and goes from there.
Prerna recalls when she met Komolika. She recalls when Komolika told her that she and Anurag missed her a lot. Komolika says that she missed her because life became boring.
Precap: Komolika asks Anurag to go to the office and convert the commercial land to residential land. Prerna meets a small girl and feels connected to her!