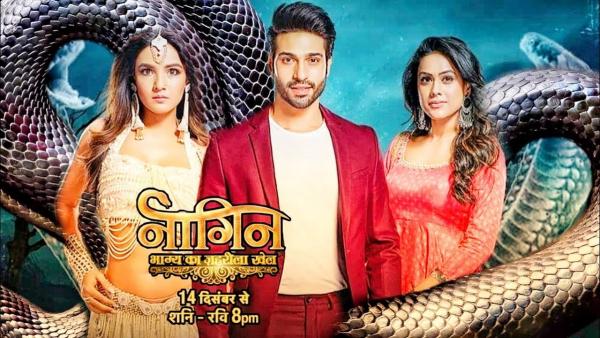 The Nagin episode begins with Nayantara leaving from there. Dev is looking at Vrinda. He starts recalling when he told her that he will not let anything happen to her family and its respect. He comes close to Vrinda but she turns on the opposite side. (check: Naagin Written Updates.)
Vish comes in Mundika's avatar in front of Nayantara and says to her that she knew about the work status which is done and Dev-Vrinda's relationship is on the verge of separation due to the baby. She says that the baby belongs to Lily and not Vrinda. Vish feels sad after hearing it and asks her to follow her commands.
She asks her to arrange a honeymoon with Dev so she will get a chance to bring Vrinda's real face in front of everyone. Vrinda is present in the kitchen and Dev also reaches there. Vrinda says that she did it all for Lily and not for him. She says that she doesn't require any apology and wish that he will understand her.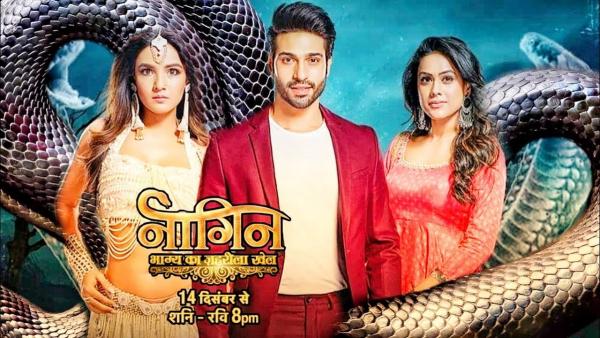 Dev comes close to her and says that like the way she understands him. He asks about her feelings from her. Vrinda says that she doesn't know about it but she is standing in front of him. She says that she wishes to hate him. He asks her to see his face and tell the reason behind it. Dev puts his hand on the hot bowl by mistake.
She gets worried about him and pours cool water. He says that he is thankful to her and she stares at him. He says that she is thankful but not and leaves from there. Swara comes to the kitchen and questions Vrinda why did Dev come here? She asks her whether Baba was here and shows the letter?
Vrinda says that Baba was also telling about it. She says that its handwriting matches her but she doesn't write it. Swara says that something is not right and has a doubt on Dev. Vrinda recalls when Dev killed her mother. Ketki places the baby on the cradle. Lily says that it is her baby. Rasik says that the baby will stay here now.
Ketki says that the baby doesn't belong to her and asks her to leave. She keeps scolding her as she got pregnant without even getting married. She says that the baby is an orphan now. Rasik asks her to leave as they are there for the baby. The baby starts crying and Lily asks him to stop. Ketki makes Lily leave from there and Rasik locks the room.
Dev questions Shalaka (Nayantara) whether they are going somewhere? She says that she has done all the packings and asks him to book an outing for Materan. Dev replies that he will book it. She gets happy and hugs him. Vrinda listens to their conversation from the door. He says that he has to sleep now in the study and leaves.
Vrinda drops the invitation to everyone's door and invites them within 3 hours. Lily looks at it and calls Milly but she doesn't pick it. Billy talks with her and Lily asks her to return home. Bily says that she wants to meet Vrinda at home and stares at the picture of Temple on the laptop.
Dev reaches the hotel with Shalaka. He says that he came here in the past also and the food will come from the village. Dev asks her to enjoy till then he can do his work. She says that she knew it. Dev says that she already knows that he didn't want to marry her, but it is just like his adjustment. He got married to her for Mom's happiness.
Dev takes the selfie for her. Everyone comes over there and surprises them. Akash questions Dev whether it is the place for the project work? Dev replies yes! Vrinda also reaches there and bids thanks to Shalaka for inviting her. Shalaka says that it was her surprise for Dev as he can't live without family.
Shalaka comes and talks to Vrinda whether she did it? Vrinda says that she told it was a surprise. Shalaka bids thanks to her for Lily but Dev belongs to her. Vrinda says that she can handle her like an enemy easily. Lily says to Maid that she can call her when the baby cries. Ketki says that they hired the maid to look over the baby so she can leave.
Dev's cousins plan to play a game and comes with the board. Vrushali agrees for the game and creates the terms. Hardik chooses his members. Vrinda comes there. Shalanka taunts that no one chose Vrinda. Lily chooses Vrinda for her team. Bily arrives and hugs all of them.  Billy comes to Vrinda and hugs her.
Billy says to Vrinda that she didn't let her knew about her transformation to Naagin from the human avatar. She says that this comes under her research as Mily talked about it. She says that she is aware of the secret behind Lal Tekri Mandir which Vrinda should also know. At the moment, they connect a call to Bily.
Dev comes to take the drawing. He says that Vrinda has eaten it. Vrinda says that it was chocolate. Lily says that it isn't only chocolate. Dev says that she knows about it. Vrinda says that this is a fruit. Dev hugs Vrinda. Dev looks at someone from the office and he goes.
Shalaka stops Vrinda and says that she should help Lily. Vrinda shows a sign towards Bily. Rohan draws the cat. Bily asks Vrinda to leave for the tea. Vrinda hears Dev's conversation with the associate. He says that he won't forget 8th March as he supported him throughout the day and night.
Dev says that he has to leave for outside and the guy offers a raincoat to him. Dev takes it and goes outside. Vrinda plans to kill Dev now.
Precap: The next episode highlights the temple wherein a snake is present. The snake spits poison!