The Kasauti Zindagi Ki 2 episode begins with Prerna hiding from the goons. Jagga comes over there and questions who has done all this? His brother-in-law says that some boss called on his phone and asked to kill Prerna so he took that opportunity but Prerna hit his leg. (Check: Kasautii Zindagii Kay 2 Written Updates.)
Jagga asks other goons to find her and take her brother-in-law to the hospital. A box slips from Prerna's leg and Jagga hears it. Prerna keeps hiding from Jagga. Jagga catches Prerna and asks her to run now. Prerna takes the wood powder and throws it in his eyes. Jagga is not able to see her and she runs from there.
Other goons come to him and he shouts at them to find her. Prerna is in the forest. Anurag and Viraj look at some people going towards the cottage and follows them. The goons also come to the forest. Anurag shouts Prerna's name but she thinks that he is not here so she should escape soon.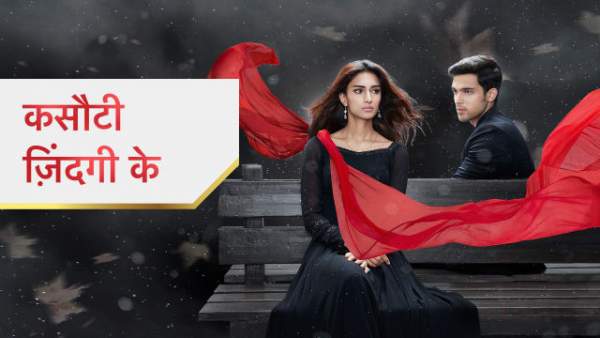 Prerna's leg gets hit and she gets hurt. Prerna keeps moving from there and hides behind a tree from the goons. Jagga looks at Prerna's outfit appearing from the tree. A snake is present in the forest. Jagga and other goons come to catch Prerna and the snake is moving fast.
Anurag questions the crowd who are they? They say that they were founding a cheetah who took their animals. They question who are they? Viraj says that they missed their way. The snake comes in front of the goons and Prerna runs from there. The snake goes from there and Jagga didn't find Prerna.
Veena is praying continuously to save her daughter. Mahesh and Shivani return home that they didn't find her. Moloy says that Anurag finds surely find her. Mohini shouts at Veena to stop praying and ringing the bell. Moloy holds Mohini's hand and takes her. Shivani also joins Veena's prayer for Prerna.
Anurag drops Viraj at home as they couldn't find Prerna. Viraj questions whether he is going back home? Anurag says yes! Anurag leaves from there. Viraj thinks that he can't go home and starts driving to find Prerna.
Anurag thinks that he will surely find Prerna soon. Anurag recalls when Prerna confessed her love to him thinking that he is Viraj. Anurag recalls every moment spent with Prerna.
Sonalika comes to the cottage, but can't find Ronit and Jagga. She thinks that they might have killed Prerna so no one is here. Jagga comes there with other goons. Sonalika questions about Prerna's dead body? Jagga says that she talked with her brother-in-law and he tried to kill her, but she ran away. Sonalika slaps him.
Jagga says that they can't find her as they have checked the jungle.
Prerna is feeling very painful and comes to a house. She keeps knocking and falls over there. A lady opens the door and calls her family members to take her inside the house. Prerna is unconscious. The lady says that she is feeling pain and applies for some herbal medicines on her.
The lady tells her husband that she came here by running from the goons. He says that no one will do anything to her and calls some people to protect her. He asks some men to guard the house along with their weapons.
Prerna comes into senses and the lady says that she will be all right. Prerna asks for a phone to call her husband.
Precap: Sonalika asks her goons to make Prerna stand on the hill's edge. Sonalika goes to a corner and Jagga throws Prerna from the hill. Anurag runs to catch her!