The episode begins with Anurag tells Sonalika that he heard Prerna's baby's heartbeat. Anurag says that he felt like it is his heartbeat. Sonalika says to him that they should sleep as it is very late. Sonalika thinks to do something so that Anurag throws out Prerna from the house. (Check: Kasautii Zindagii Kay 2 Written Updates.)
Anurag comes to Prerna's house. Veena meets him. Anurag invites them to come to the party at their home from the company. Anurag says that Rajesh uncle was a great part of the company so his family is invited. Anurag requests her to come with Prerna and Shivani. Anurag says that she should also bring Prerna's husband.
Veena looks at him strangely. Anurag says that he might have heard right that Prerna's husband has left her. Veena says to him how did he dare to question like this? Veena says that she will tell about Prerna's husband to him and goes upstairs to bring the picture. Veena starts searching for Anurag's picture in her cupboard.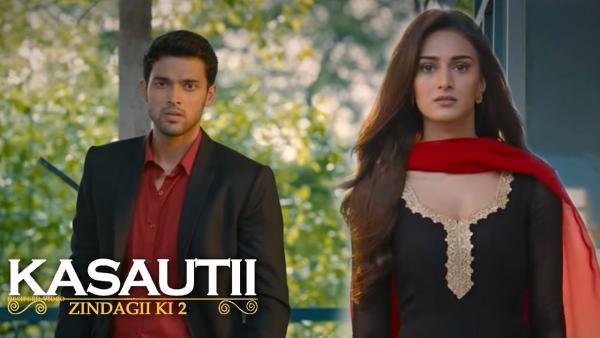 Anurag thinks that Prerna will stop aunty from showing the picture so he goes upstairs. Veena finds the photo and Shivani come to her. Shivani question why is she so angry? Veena says that she is going to show the photo to Anurag as he questions about Prerna's husband.
Veena says that she will tell him that he is only Prerna's husband. Veena takes the photo from the album and gets ready to show him. Veena says that even if he has forgotten his memory, but his heart doesn't tell him anything. Anurag questions what heart doesn't tell? Shivani takes the photo and album and keeps it in the cupboard.
Shivani says that they will never see his photo. Shivani says to Anurag that he can come after some time. Anurag says that he came to invite them to the party. Shivani agrees to come. Anurag apologizes and leaves from there. Shivani says to Veena that she should not do this again. Shivani says that his health is not good.
Veena says that Prerna's health is also not good. Nivedita informs Anurag and everyone that the media are also coming. Anupam talks about the cash and Anurag says that he has kept it. Prerna comes over there and congratulates Anurag. Anurag says that the credit goes to everyone. Nivedita asks Sonalika to make the cash keep in the study room.
Anurag says to Prerna that she can go with Sonalika. Komolika questions Prerna whether she is upset from the shock? Prerna says that she already knew about it. Prerna says that she switched off the wire and did her work. Prerna says that she left the switch open for her to get the shock.
Komolika challenges her to see her with Anurag at the party. Prerna says that she can never earn Anurag's love and trust. Anurag gets happy to see Prerna coming with her family. Mohini takes Veena to make her eat some special sweets. Nivedita takes Prerna and Shivani with her for some work.
Mohini thinks that she has taken the right decision to keep the Sharma family busy. Anurag's guest comes and Anurag calls Prerna and Nivedita. Mohini says to Veena why did she come here? Veena says that she knew about her real face, which can never change. Veena says that her son called them.
Precap: Veena says to Mohini that Prerna is carrying Prerna's baby. Nivedita denies that Anurag never told about the baby. Anurag goes to Prerna's house to find Prerna's husband's photo!