The episode begins with Prerna share her sadness with the Goddess that she is tired after hiding her feelings for Anurag. Prerna says that she is not able to understand anything and prays to the Goddess to help her. Anupam looks at Prerna sitting over there and signs Anurag to go to her. (Check: Kasautii Zindagii Kay 2 Written Updates.)
Anurag comes and sits with Prerna. Anurag asks the priest to give blessings to Prerna. The priest blesses Prerna that her problems will be taken away by the Goddess. Anupam calls Anurag for something. Kukki comes to Prerna and hugs her. Mr. Bajaj also comes there with Tanvi and Masi.
Kukki was running to Mr. Bajaj but Prerna's nuptial thread comes out with Kukki's outfit. Tanvi says that it is a bad sign. Mr. Bajaj and Prerna look at the nuptial thread. Prerna apologizes that it got broken. Kukki hugs Mr. Bajaj as she feels sad and Mr. Bajaj says that they will bring a new one. Mr. Bajaj console Kukki not to cry.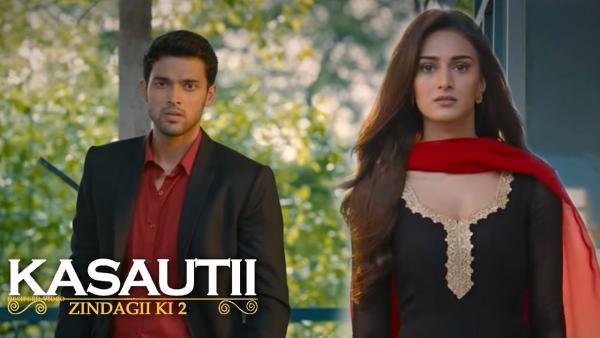 Mohini informs everyone about the celebration for Pooja and the festive dance. Mohini invites everyone taunting Mr. Bajaj. Masi leaves from there with Tanvi and Kukki. Anurag says that he will also participate in the dance and pray to Goddess to give him Prerna back. Mr. Bajaj says that he will also participate now to pray for him. Prerna leaves from there.
Anurag is talking with Shivani that they haven't come yet. Shivani says that he should talk to her mother. Veena says to Anurag that Shekhar is in the office so they will come when he will return. Anurag says to Shivani that she should have informed her before as he would have come to take them.
Mr. Bajaj comes to a place and talks with the goons. Mr. Bajaj gives Anurag's photo to the goons and informs about their job. The goons say that they are well aware of their job as they have to come to Basu Mansion and become a part of the dance. The goon says that they have to act like burning Mr. Bajaj so that all the blame goes to Anurag.
The goon asks Mr. Bajaj to wear some cloth that catches fire easily and they will handle the rest. Anurag says to Prerna that the Goddess gave her a message when her nuptial thread came out. Anurag says to Prerna that when she felt like going to the one she loves, then she should remember that he is always waiting for her.
Prerna questions why does he love her so much? Anurag says that he has learned about love, feelings, and pain after meeting her. Anurag says that he doesn't want anything when she is with her. Anurag questions why she chooses Mr. Bajaj when she loves him? Prerna leaves from there making an excuse.
Prerna comes to her room thinking about Anurag. Mr. Bajaj comes over there and questions whether she is fine? Mr. Bajaj questions what has happened? Prerna says that she met Anurag and Mr. Bajaj changes the topic. Mr. Bajaj gives his phone to Prerna to look at some mansions.
Prerna finds it weird and he takes back the phone. Masi gives Kurta to Rishab and he recalls to make it catch fire easily. Veena comes along with everyone in Basu Mansion. Prerna and Anurag come to hug Veena and both of them do it together.
Precap: Veena blesses Anurag and Prerna for their wish. Prerna was about to fall, but Anurag holds her. Mr. Bajaj gets shocked to see everything. Mr. Bajaj's goon burned his outfit and escaped from there!