The episode begins with the priest guiding Angad and Sandhya to stay together always. Nisha gets angry on it and sits inside the car. The priest questions Sandhya whether she knows Shiv Chalisa or not. Sandhya says that she knows it. (Check: Kawach Written Updates.)
The priest says that whenever she feels any trouble, then she should start reciting Shiv Chalisa as Lord Shiv speaks in the Chalisa which fights with the evil. Sandhya takes blessings from her Aji and everyone leaves from there. The priest is conducting Lord Shiv's pooja.
Angad apologizes from Sandhya for hiding something. He says that he is not talking about Nisha as there is nothing between them. He says that he is talking about Ranjana and she got misplaced in Bombay. He says that after some days, Ranjana's father came back in huge anger. He says that he asked Nisha to help him find about Ranjana.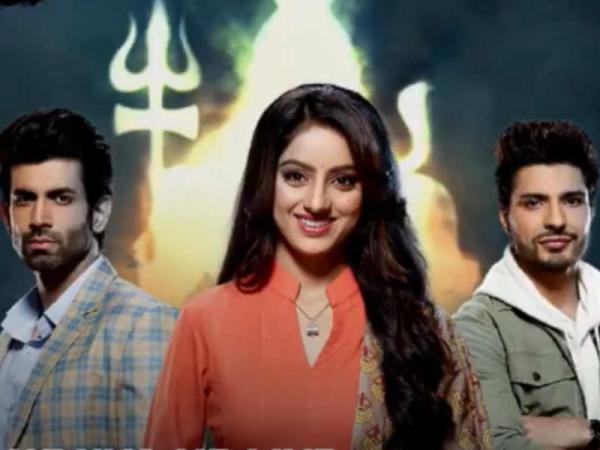 Sandhya gets emotional that she misunderstood them. He says that things have changed now. She says that he should not marry her as the evil spirit is revolving around her and she doesn't want him or his family to get in trouble. He says that he will not leave her.
Some people come running to them with cues and Sandhya recalls when the priest told them the evil spirit would show something which is not real. Sandhya asks Angad not to stop the car. They pass from the place and it was just an illusion. Angad's family move ahead of his car and gets hit by a tree.
Both of them shouts for his help. Sandhya stops Angad from getting out as it is just an illusion. Angad goes out and everything gets vanished in the air. Sandhya gets locked in the car and the car starts moving. Angad goes to stop the car, but couldn't do anything. Sandhya looks at Kapil in the mirror sitting behind her and tries to stop the car.
Kapil comes in real over there and she can't see him in the mirror. Kapil says that she should not get scared of him and turns his eyes red. Angad falls down and everyone comes to him. He says that the spirit has taken Sandhya and leaves in the car. Usha asks Ankit to call Angad's parents and they all go behind Angad.
Kapil touches Sandhya and she shouts for help. Sandhya gets to fall down from the car and is scared in the jungle. Angad comes to the place where Sandhya's car is parked. Usha asks Kartik to call Nageshwar Baba. All of them goes into the jungle to find Sandhya.
Sandhya gets trapped by Kapil in the jungle. Sandhya looks at Angad and comes to him. Angad turns into Kapil and she gets shocked to see him. Nisha looks at Angad's hand, which is bleeding badly. Angad shouts at her that Sandhya is in huge trouble and she is talking about his hand.
Sandhya hides behind a tree and gets shocked to see a lady hanging over there. She reaches the edge of a place and Kapil traps her. Kapil asks Sandhya to come close to him and she says that she will fall down if he comes close to her. She was trying to fall down, but the spirit of a lady comes to take her.
Kapil holds Sandhya and does something on her stomach. Sandhya recalls that the priest told her not to let the spirit speak something in her ear.
Angad comes to Sandhya and takes a cue o hit Kapil. Angad couldn't do anything as Kapil is a soul and hits Angad. Kapil grabs Angad and holds his neck to kill him. Sandhya starts reciting Shiv Chalisa to save Angad. Kapil and other spirit start losing their power. Both the spirits get hurt from the Shiv Chalisa.
Kapil leaves Angad and Sandhya was going to him. Kapil takes Sandhya with him and the lady holds Angad. Kapil is trying to do something in Sandhya's stomach, but the priest comes reciting the prayers. Both the spirits lose their control and get trapped in the prayers.
The priest is successful is trapping the spirits in his control and put them in the box. The priest locks the box with all the prayers and fixes it with a Trishul under the ground.
The priest says that Lord Shiv can kill the evils. Sandhya question if they will come again? The priest says that they can't come out as both of them love each other truly. He says that he can only trap the spirits but not kill them. He says that the spirits can't come out if the Trishul is placed over there and ask them to get married tomorrow.
Nisha feels sad after hearing it. The priest says that her nuptial thread tied by Angad will be a Kawach for Sandhya and they will stay here until both of them get married.
The sunrise and everyone are busy to make preparations for Angad and Sandhya's marriage. Nisha is thinking something and won't let things remain perfect. Angad's Bua starts questioning on Sandhya and ask Angad to marry Nisha. Angad says that Sandhya is going to be his bride.
Angad says to everyone that Sandhya is not responsible for everything happened. Angad looks at Sandhya and her family standing at the entrance. Angad apologizes for them on behalf of Bua. Sandhya agrees to his Bua and apologizes for hurting them. She says that if they are not happy with the marriage, then they can cancel it.
She goes outside and is crying badly. Angad comes to her and shows his love. Nisha gets angry after looking at them. Angad's Bua comes to Nisha and says that she should fight for her love.
The priest is worried that the evil spirits can come out of this trap. He asks his assistant to keep an eye on the trap as he is going for her prayer. Everyone starts putting Haldi on Angad and Sandhya. Nisha thinks that she won't let Angad be with someone else.
Precap: Nisha removes the Trishul to be with Angad!