The episode begins with Sumitra asking Krish to marry Ruhi. He says that he hasn't denied this and he was just a little late. Sumitra asks where he had gone? Krish says that he is not her servant and just had a deal for profits. Sumitra asks him to marry Ruhi tonight and asks him to shut his mouth. (Check: Naagin 3 Written Updates.)
Vish, Vikrant, Kuhu, and Bela come and say that they have come here to enjoy the wedding celebrations. Sumitra asks them to leave, but Kuhu says that they have come to decorate the house. Sumitra says that they should leave since tonight is Mahir and Ruhi's wedding.
Bela says that any person can't marry another woman before he gets divorced from the first wife according to the Hindu culture. Sumitra says that she wasn't aware of it and asks Bela to call the police. Bela says that she has a better idea and asks Mahir that he is going to marry Ruhi. Bela says that she is also getting married to Krish.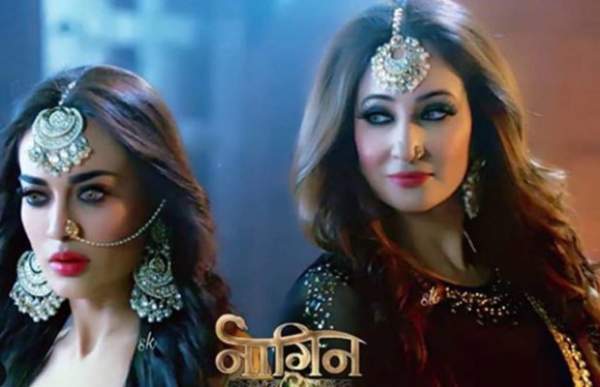 Sumitra goes to inform Ruhi about Bela who is going to marry Krish. Sumitra says that it is a great problem that there is one guy and two marriages. Ruhi says that no one has said Krish to marry both of them and he can choose the girl which he wants. Sumitra says that this will create trouble.
Ruhi gets happy thinking that she is successful in trapping Bela. Ruhi says that Bela thinks Mahir is alive and getting married to her. Sumitra asks Ruhi to throw Bela out of the house or else she will get mad. Ruhi says that they all want Bela to get mad and reveal about the Naagmani.
Sumitra says it is not possible that Krish can marry two people at the same time. Ruhi says that the fact is Bela is getting trapped in their plan so let her marry Krish.
Bela thinks that she can't be fooled so easily. She knows that everybody is thinking that she has left Mahir alone in the burning cottage. She is talking to herself and feels happy about her successful plan which is working without any problem. She says that she was well-aware about the fact that Mahir can never die.
Bela comes in her room with some bags. Vish enters the room with the wedding outfits. Someone comes with a lot of gifts covering his face. Bela asks Vish that Huzoor has sent so many gifts. Vish says that Krish might have sent these gifts. Bela asks him to keep the gifts and Vish takes the gifts to see it. Vish takes the gifts and it is Krish.
Vish leaves saying a goodbye. Bela throws away all the gifts and hugs him tightly. Bela asks Mahir that what is happening and about Krish. Mahir says that he had not died and didn't get burnt in the cottage. He says that he has made a plan to confuse Sumitra that he is Krish and not Mahir.
He reveals about the deal, which Sumitra offered to him. Bela ask that what is all about Huzoor and all? He says that he doesn't know anything and these guys are planning to make Bela fool. He says that Sumitra just wants to know about the Naagmani. He asks how can she recognize him after all this?
She says that she recognized him, but he was always avoiding her and acted really well. Bela starts teasing Mahir that she likes Krish. Both of them are lost in each other.
Two wedding podiums are being decorated one for Huzoor and the other for Bela. The priest asks about the bride and Sumitra goes to take Huzoor.
Bela is getting ready and Mahir comes to meet her. Bela has got ready in her Naagin outfit for the wedding as she is happy for her wedding since Mahir knows everything about her. Mahir confesses his love for her and she says that she wants to marry him in her real avatar. He says that he finds her Naagin outfit very well.
Ruhi has also got ready in her Naagin outfit and asks Sumitra not to worry about Krish.
Vish comes to take Bela for the wedding rituals. Bela asks that everyone knows about the plan. Vish says that everyone is ready. Bela says to reveal Huzoor's truth, it is important to execute this plan. Vish and Krish leave to let Bela get ready.
Bela is ready and Vish takes her downstairs. Huzoor also comes with Sumitra downstairs. Huzoor asks Bela about his groom. Vish asks about Huzoor's groom. The priest asks to call the groom. The group of people in black outfit comes there to the groom who is Mahir. Huzoor asks Bela about her groom.
Krish comes there as Bela's groom. Everyone is shocked to see two people with the same face. Bela introduces Krish to Mahir who looks alike to him. Everyone gets shocked to see Krish and Mahir. Sumitra and Huzoor are confused with two people having the same faces. Ruhi asks the fake Krish about a secret code to know whether he is real Krish or not.
The fake Krish says to Ruhi that all the plan he has made to make Bela fool.
Some time ago, Bela has informed Mahir about the plan she has made which will get Ruhi to marry a person who looks alike, Mahir. Vikrant was ready to become fake Mahir and marry Ruhi, but Juhi came and says that she will become alike Mahir.
Bela is getting married to Mahir and taking the vows in the wedding rituals. On the other hand, Ruhi is also getting married. Bela and Mahir are happy to take the vows at their wedding. Juhi is in the face covering as the person who is sitting with Ruhi in the wedding rituals. Juhi and Ruhi complete the wedding rituals.
Precap: Yuvi gets to know about Juhi. Bela questions Hukum about her silence after looking at Rani. Huzur and Bela, look at something and get shocked.