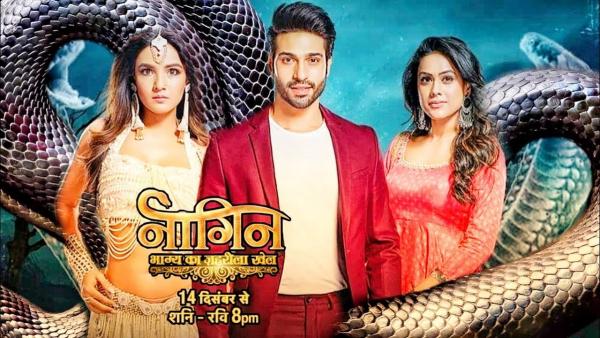 The episode begins with Vrinda is having thoughts for Manas that all the family members are unaware of his activities. Rohan, Harsh and others come to take Vrinda with them. Vrinda escapes from their calling Dev before they could turn to her. (check: Naagin Written updates.)
Manas looks at Manyata at the terrace and questions about her! Manyata replies that she is an enemy. Dev hugs Rushali and informs her that he is fine. He catches Vrinda hiding under the table so he makes excuses for Rushali that Ketki was calling her. Manyata reveals to Manas that she has returned after 25 years to take her revenge.
Dev also sits under the table and questions about the matter! Vrinda says that she has seen something which he won't believe. Manas was leaving, but Nayantara stops him. Manas says that he doesn't know her. Nayantara says that she is aware of her. He turns behind and gets shocked to see Manyata turning into a snake.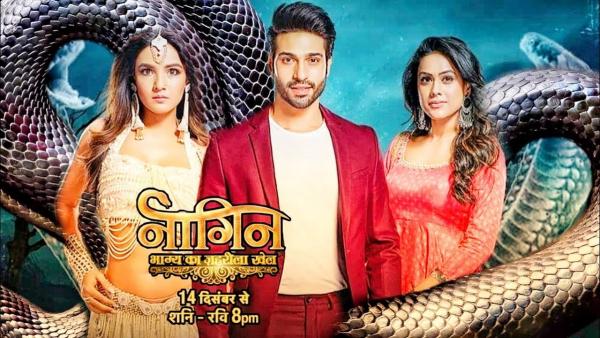 Manyata shows her anger and bites him. Manas makes an effort to send a message to someone. Manyata reveals that she came to take her revenge from him and his family. Vrinda thinks to reveal Manas to Dev but she is not able to see his brother.
Manyata says to Manas that she is aware of the moment when her mother killed a kid. She grabs him from her tail and throws him at the marriage altar. Nayantara and Manyata get happy. Everyone gets the biggest shock after seeing Manas in a badly injured condition. Kanika is shouting in pain.
Nayantara says that these people will plan to find a rich girl. Manyata says that she can come in their search. Manyata says that she can plan to make Dev get mad over her.
Manas's mother questions Baa whether her son would be all right? Everyone is waiting outside the ward. Rushali reveals to the Pandit about Manas' accident when he falls from the terrace. Pandit says that she will get information about the Naagin soon.
The doctor informs everyone that Manas is out of danger. Rushali stares Dev as she is worried about him. The doctor says that he needs to call the police since it is an accident case. Manyata questions Pandit Ji why didn't her daughter came to her avatar? Nayantara catches a group of goons following a girl. She manages to stop the girl.
Rushali's brother-in-law tells her that Kanika left from the marriage with her family. Manyata fights with the goons and beat them badly. She takes the girl and walks from there.
Manyata questions Pandit Ji whether Nayantara is her real daughter or not? She says that what is wrong as she is not able to see it? Pandit Ji asks her to think about the past. Manyata says that she has always kept her daughter along with her, even when she fell into the river.
Manyata says that it could be possible that someone might have swapped her daughter when she was being rescued by the villagers. She questions God, why is he not being fair to her? Pandit says that it all happened due to God's wish. Manyata says that her daughter would take her revenge and kill her enemies.
He says that she knows all about the place where she has to go and she will get all her answers from there. He tells that she will find a book over there which will have her daughter's name and details. Manyata says that if her daughter is safe, then she might have changed into her Naagin avatar now.
She says that she will begin her search for her daughter and take her revenge soon. Manyata gets hurt and Dev consoles her. The police come to enquire about the case and questions about Manas' enemies? Rushali says that he doesn't have enemies.
Dev questions why did she get into the fight? He bends to apply balm to her feet and asks for her permission. She says that he should not feel shy and apply the balm on her chest. Dev applies it feeling shy. He questions how come did she learn martial arts? She says that it is her childhood learning.
Vrinda thinks that it is good for Manas to get punished, but it happened a lot with him! She slips down. Dev comes with the ointment to apply to her feet, but she takes it to make herself. He denies and does it himself. Nayantara enters there and starts coughing. Vrinda makes an excuse and goes from there.
Manyata looks at the childhood pics of Nayantara. Rushali looks at Dev with Nayantara and thinks that she belongs to a rich family so his Jodi is good with her. Swara questions Vrinda about her well-being? Vrinda says that she is fine. Swara says that she will talk with her Baba to conduct a pooja soon. Rushali interrupts and asks Vrinda to talk with her alone.
Nayantara comes back home and tells Manyata that they are coming close towards their revenge. Nayantara says that Dev has started showing care for her after seeing her injury. She says that she made an injury to catch Dev's attention. Manyata says that she is precious to her so she should not hurt her like this.
Nayantara looks at her childhood pics and thinks why is Maa looking at all this? Rushali makes a plan and asks Vrinda to convince Dev for marrying Nayantara. Rushali thinks that they will get money if Nayantara marries to Dev.
Rajat questions Vrinda whether she loves him? She replies that she loves her neighbor. Rajat says that she can do all that Rushali's aunt told her.
Nayantara makes a call to Dev and questions about Manas! She consoles him to stay positive and join her outside. Dev receives a message from Vrinda that she has plans to go to watch a concert with Rajat and he can also join them. Dev questions Nayantara to come with him to the concert!
Precap: Manyata comes to the place and starts finding her daughter's details. Nayantara looks at Vrinda turning into a Naagin and goes to tell Manyata!