Naagin Season 3 13th January 2019 Written Episode Update: The episode of Naagin Season 3 begins with Sumitra who asks Shivli's family to stop. Sumitra says that today is Shivli's wedding so Shivli's family can't go like this. Sumitra tries to forcefully begin the wedding rituals, but Shivli's mother stops her. Rohini and Alek come in their Naagin avatar and bites Shivli's mother and father. Everyone is scared to see this.
Also See: Zero 17th Day (3rd Sunday) Box Office Collection
The strange girl enters the house acting like a planner. Rohini is getting Shivli ready, but Shivli is really scared. The strange girl comes to help Shivli get ready. The strange girl helps Shivli to go from the place and Bela goes upstairs by hiding herself. Bela looks at all the scene as Sumitra is commanding over Kuhu and Bultu. Sumitra is shouting at everyone to hurry and work as she demands.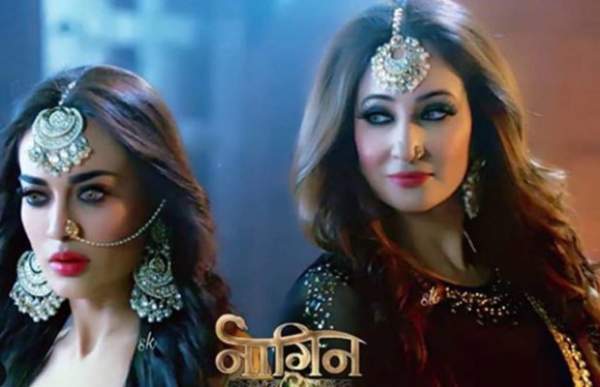 The strange girl takes Shivli away to her brother and sister-in-law. She takes them to the guest house to get outside.
Rohini is asking Sumitra to stay calm or else she'll get wrinkles. The stylist for getting the bride ready has come and Sumitra gets shocked to see her. Sumitra goes to talk to Yuvraj and Rohini is going on her back. The strange girl has reached into the room for getting everyone out. Sumitra, Yuvi, and Rohini have come outside of the room and knocking to open it. The strange girl was trying to escape, but everyone has seen her. Yuvi is going down to catch her. The strange girl is running with everyone outside. Rohini and Alek have come up in their Naagin avatar to go outside. Sumitra has come up with a gun and questions Shivli to stay in the house or else she'll shoot her brother. Sumitra shoots at the hand of Shivli's brother, but he is not dead. Sumitra calls security and asks them to find the girl who came as a false wedding planner. Sumitra commands Shivli, her brother, and sister-in-law to stay in this house in front of her eyes.
Mahir is happy that he is going to have a good girl. Andy comes and consoles him that he can't do anything. Andy is really sad that he couldn't be with Mahir when he needed him. Mahir says that you're a good father as you never beat me like Yuvi.
Mahir and Shivli are ready for the marriage. Mahir asks why the girl is crying. Sumitra takes Shivli and asks her to smile. Yuvi comes with some Naag's and Nagin's to take care of everything. Sumitra is not picking the call and says that she doesn't want any disturbance.
The wedding rituals have begun and Sumitra wants that the rituals must get performed early. Mahir and Shivli have covered the seven wedding rounds.
The strange girl comes inside the Sehgal house and snatches the house keys from a security guard. Mahir has taken the Mangalsutra and is not ready to give it to Shivli. Kuhu says that give it to Shivli and I'll bring a new one for you. Mahir puts the Mangalsutra on Shivli. Mahir puts the Sindoor on Shivli and they've got married successfully. The strange girl opens the gate and everyone is shocked to see her.
Precap: Everyone is shocked to see Bela as Mahir's bride. Bela has come in Shivli's avatar. Shivli's brother is Vikrant and her sister-in-law is Vishakha. Bela and Mahir are looking at each other.