The season 7 episode 14 of Arrow is not going to air on February 18, 2019. There will be a re-run of the last episode (#13). The CW superhero show has gone on a short hiatus and the fans won't be seeing it until March. Arrow S7E14 will now air on March 3, 2019, at 8 pm ET. Until then, all the Mondays will have reruns of the episodes. (Check: Timeless season 3 release date.)
The show will return from the hiatus on March 3 with a new episode titled 'Brothers & Sisters.' Then, it will be a big week for the ARGUS team. They have been covertly following the elusive terrorist Dante, but haven't got a solid lead until now. The upcoming segment will see Diggle and Lyla getting something solid. (Check: Presidents' Day: What's Open and What's Closed?)
As per the synopsis of the upcoming episode, the ARGUS team will finally deploy the ARGUS Ghost Initiative to catch him. It simply means that the previous villains will be used to catch the remaining villains of the country. The GHOST team includes Ricardo Diaz, Cupid, and Kane Wolfman.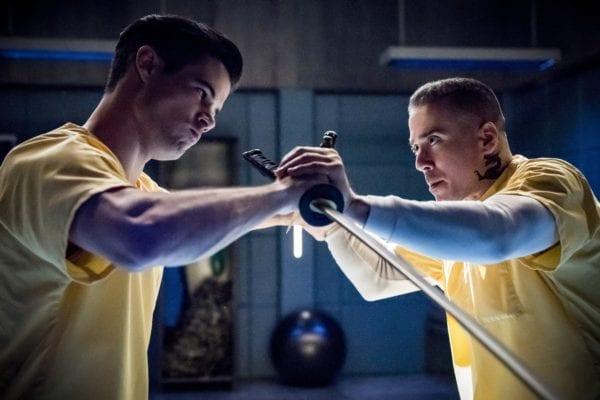 It will be interesting to see if the bad guys will follow the orders as given to them. Meanwhile, Oliver will try to get close to his newly-discovered sister named Emiko aka the new green arrow. He will try to bond with her as per the synopsis for the episode.
However, we don't get to see the last week's big cliffhanger in the next week's synopsis. In the future, we got to see that Mia is the daughter of Felicity and Oliver. Back in the present time, Felicity gets a call from her doctor that let her know that she's pregnant. We will have to wait until March 3 to see if Felicity brings it to Oliver right away.
Curtis won't be seen in the new episode. It's because the actor Echo Kellum who plays Curtis had said that he wanted to spend more time with his family and focus more on music and directing. The character has left after taking a job in Washington DC. It has left him plenty of room to return to Star City one day.
The synopsis reads the following:
After months of covertly pursuing Dante, Diggle (David Ramsey) and Lyla (guest star Audrey Marie Anderson) finally have a solid lead on the elusive terrorist, so they deploy the ARGUS Ghost Initiative to apprehend him. Meanwhile, Oliver (Stephen Amell) tries to bond with Emiko (Sea Shimooka).